Below are screenshots from ProcessView which will provide you an idea of what the software can be used for…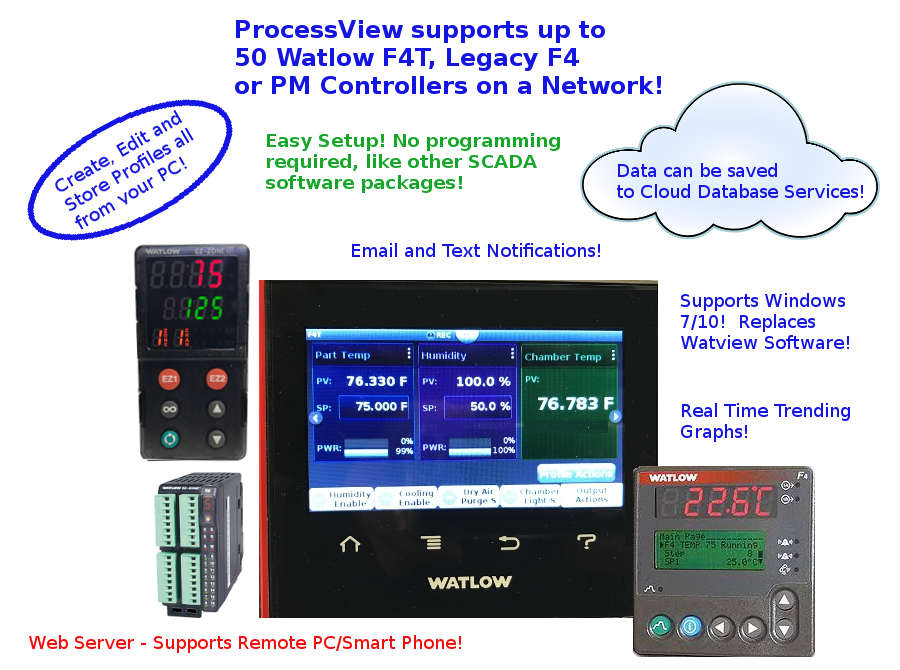 Supports Watlow® F4T/ F4 Controls and EZ-Zone RMS and PM Controls


ProcessView® Software Supports The following:
-Ethernet Communications (F4T and PM Only)
-RS-485 Serial Communications, Mixed F4T's, PM's, RMS's and F4 Controls or RS-485 F4 Network along side an Ethernet F4T Network or mulitple PM controllers on a STD BUS network using a RUI Gateway interface
-Temperature , Humidity or Altitude PID Loops
-Extra Monitoring Channels for Analog inputs
-Regular PID or Cascade PID Control Loops
- Integrated Limit Controls
-Customizable Labels for all I/O
-Multiple Internal Process Alarms and Software Process Alarms
-8 Event Outputs
-Add up to 16 External Analog Sensors with the Watlow RMS
---
Click Here
Test Text
Display Information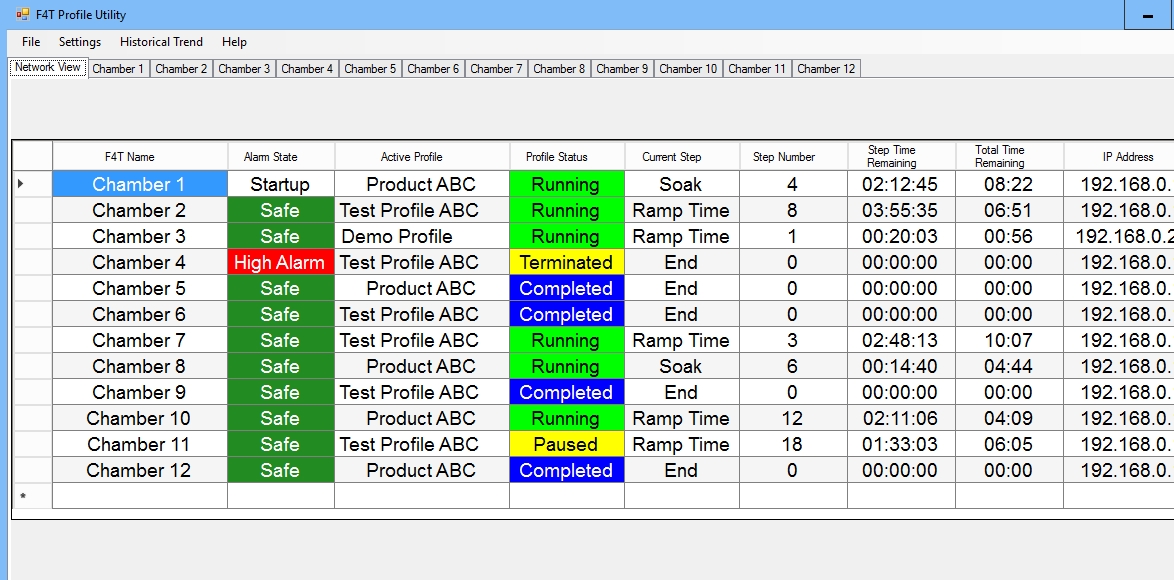 Network Overview


-Up to 50 F4T, PM or F4 Legacy Controllers Can be Displayed on a Network
-Alarm Status and Profile Status are Color Coded For Easy Recognition from a Distance
-Active Profile, Current Step Type, Step Number, Time Remaing and a Custom Name are Displayed For Each F4T on the Network
-RS-485 Network can have both F4T, PM and F4 Controllers as well a seperate Ethernet Network for just F4T Controllers providing maximum network flexibility
---
Click Here
Test Text
Display Information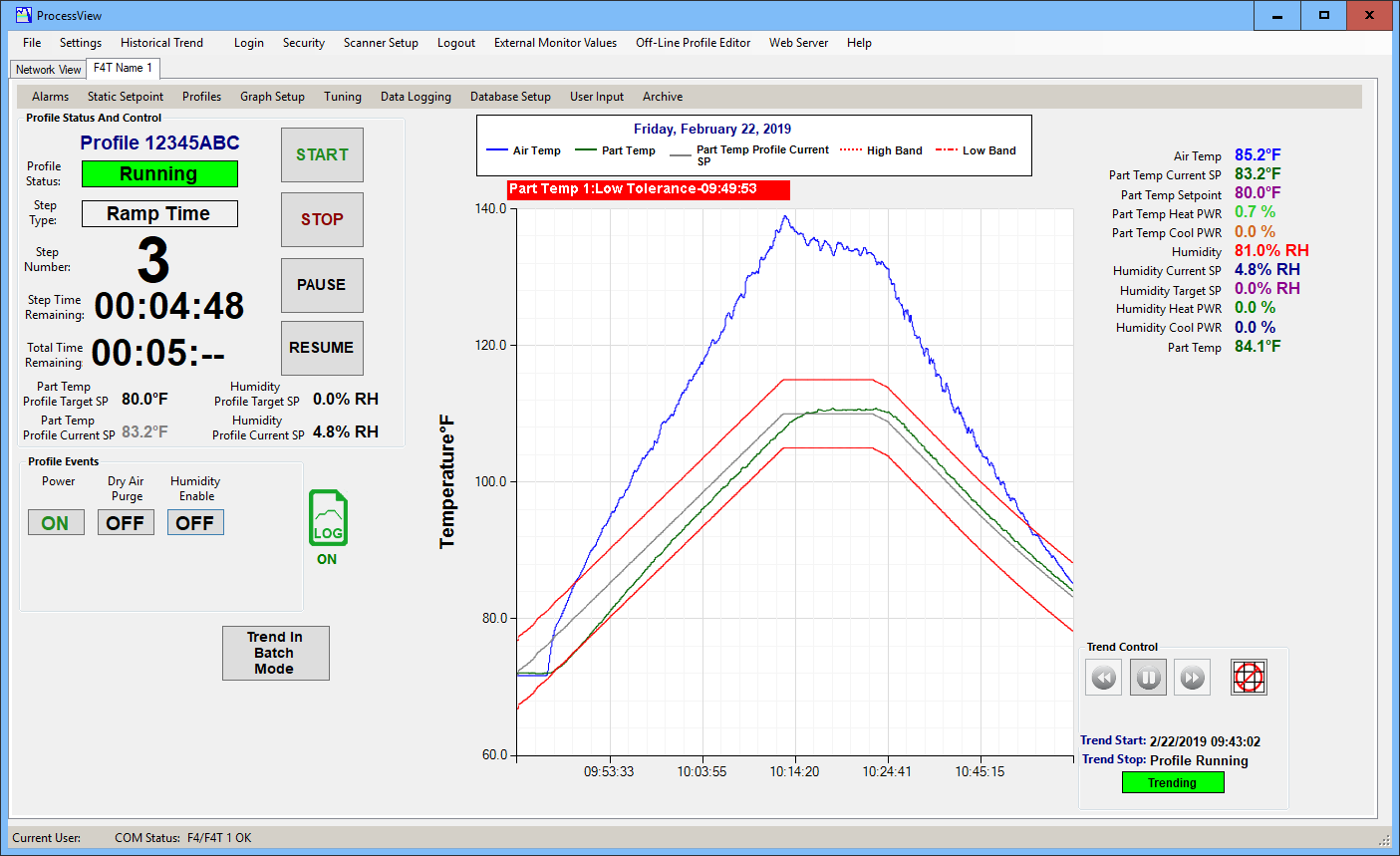 F4T/F4/PM Overview


-Real-time Scalable Trend Graph
-Profile Control and Status
-Alarm Status, Event Output Status and Variable Status are displayed
-Events and Variables can be modified from this screen for manual control
-Trend Graph can be run continuously or in a batch mode when the profile starts and stops
-Trend Graph can be archived as a PDF File or Printed
-Trend Graph can be customized with different Pen colors and data to be plotted
-Tolerance bands can be graphed around setpoints for Quality or Acceptance Reports
-Tolerance Alarms are displayed on the graph when they occur with a time stamp for easy pass or fail
-Trend Graph can be zoomed in or out for examining critical areas
-Trend Graph can be moved back or forward in time while in continuous mode graphing mode
---
Display Information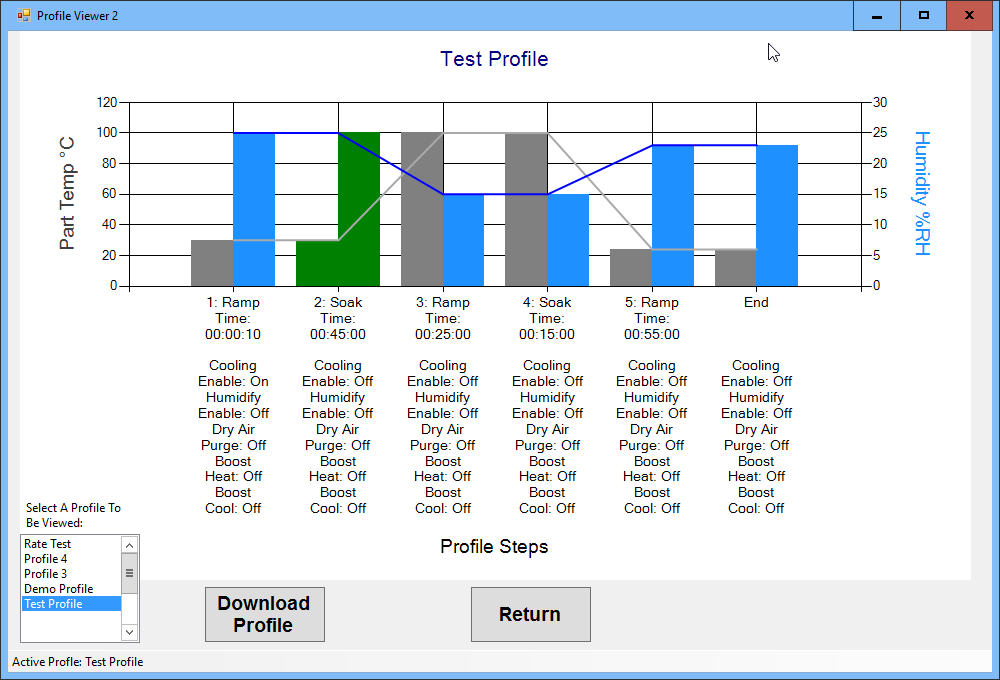 Profile Viewer


-Graphically view stored Profile Programs in the F4T/F4/PM
-When a Profile is running the Profile Viewer displays the current step real time providing a visual indication of what program step is being executed (Green Bars in Chart)
-Display Profiles can be downloaded to the F4T/F4 to use as the Active Profile to be run
-Up to 40 Profiles can be displayed that are stored inside an F4T/F4/PM
-Event Output states for each step are displayed below the chart. They can be given custom names to match your application
---
Display Information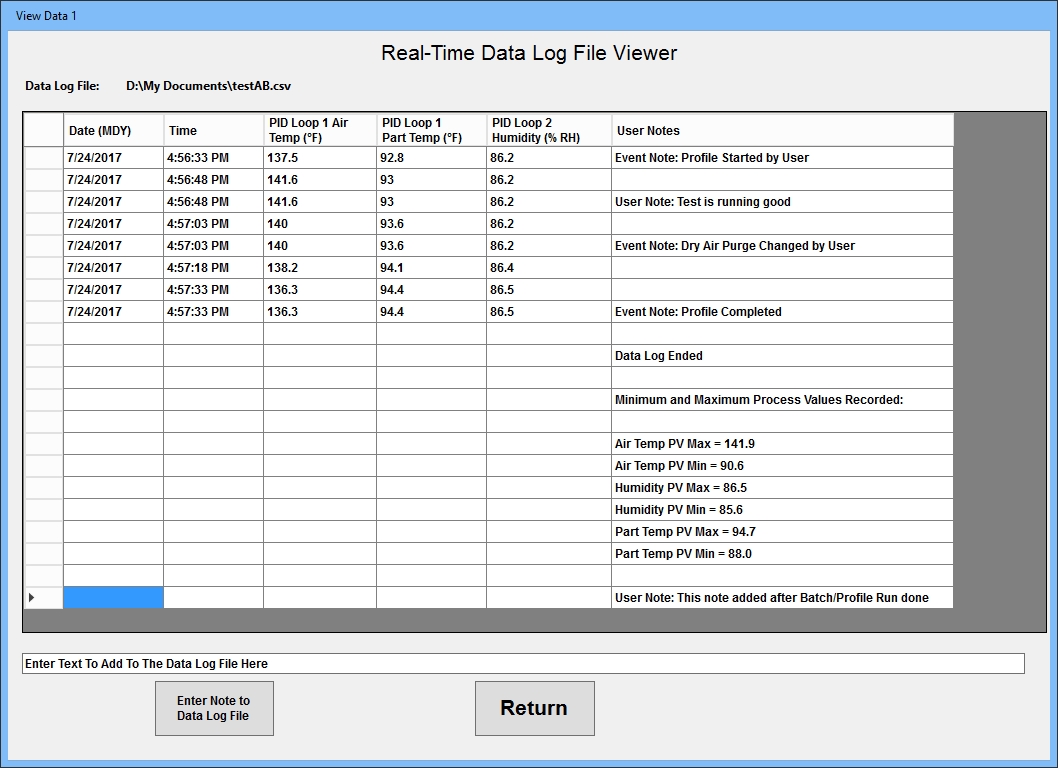 Real Time Data Viewer


-View Data and Input Notes as Data is being logged to the File
-Profile Status such as Started, Stopped, Paused and Resume are logged
-Events and Variables that are changed by the user are logged
-All Alarm Events are recorded in real-time
-When the Data Logging has ended, the Minimum and Maximum for all Process Values are recorded at the end of the Data Log File
-All Profile Run/Batch Information is saved at the end for the data log. Operator ID, Product ID and Batch # is saved in the data log
-Notes can be added at the end of a Profile/Batach run for additional annotation
-Minimum and Maximum Process values for all sensor inputs are recorded at the end of the Batch/Profile run
---
Display Information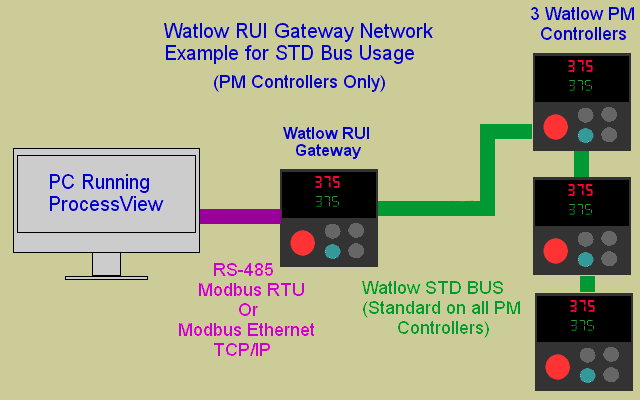 Watlow RUI Gateway


-ProcessView supports both Ethernet and Modbus RTU Gateways for interfacing to PM Controllers
-Each Gateway can be interfaced up to 8 individual PM Controllers
-Using the RTU Gateway simplifies retrofit applications when interfacing with PM Controllers since all PM Controllers come with STD Bus communications as a standard option


---
Display Information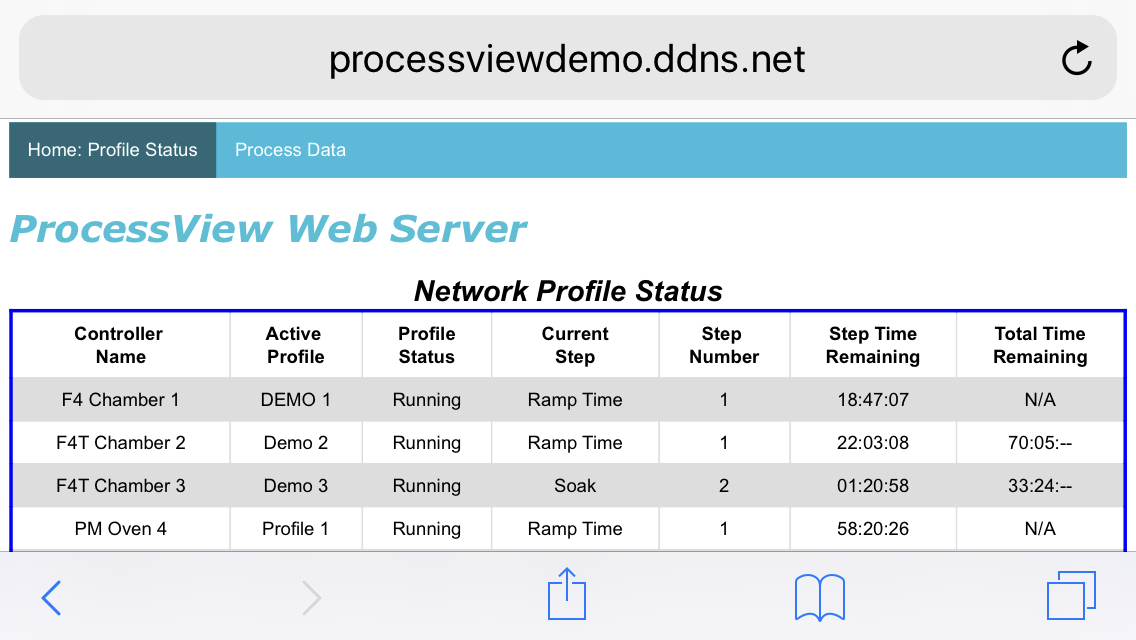 Web Server Profile Status


-Web Server Profile Status Screen, shows the Profile Status from all the controllers on the network with a network connection.
-The Web Server can send web pages to a browser on your internal company network or to a browser on an external network such as the world wide web!
-With the ProcessView Web Server, you can get Profile Data and Profile Status when you travel, from another location in your office, or from your home from a remote PC

---
Display Information

Web Server Process Data


-Web Server Process Data Screen, shows the Process Data from all the controllers on the network with a network connection.
-The Web Server can send web pages to a browser on your internal company network or to a browser on an external network such as the world wide web!
-With the ProcessView Web Server, you can get Process Data and Profile Status when you travel, from another location in your office, or from your home from a remote PC

---
Display Information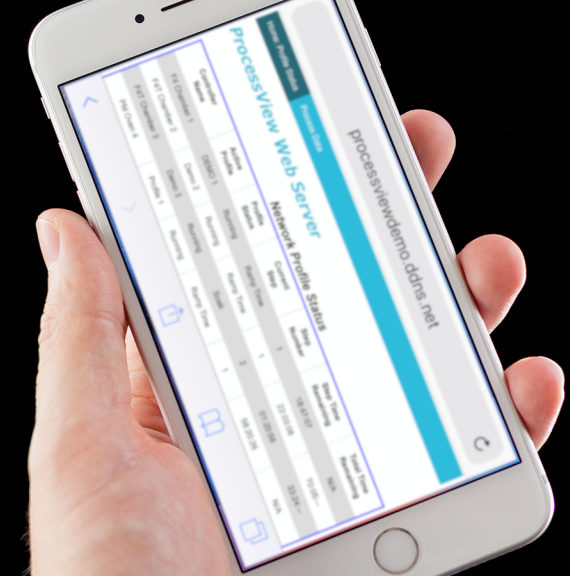 Web Server Mobile Phone


-With the ProcessView Web Server, you can get Process Data and Profile Status when you travel

---
Display Information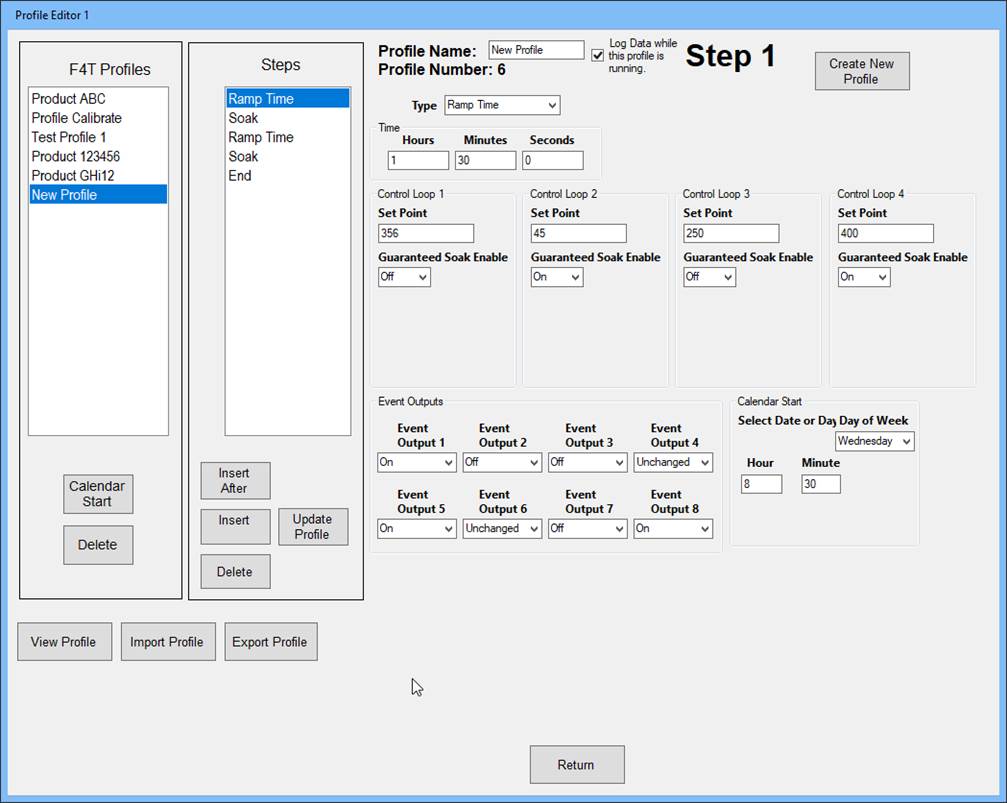 Profile Editor


-Profiles can be created, edited and saved in a Controller or remotely on a local or networked PC
-F4T/F4 and PM Controllers are supported
-All Profile parameters are supported
-All saved Profiles can be downloaded to a Controller for easy Profile management

---
Display Information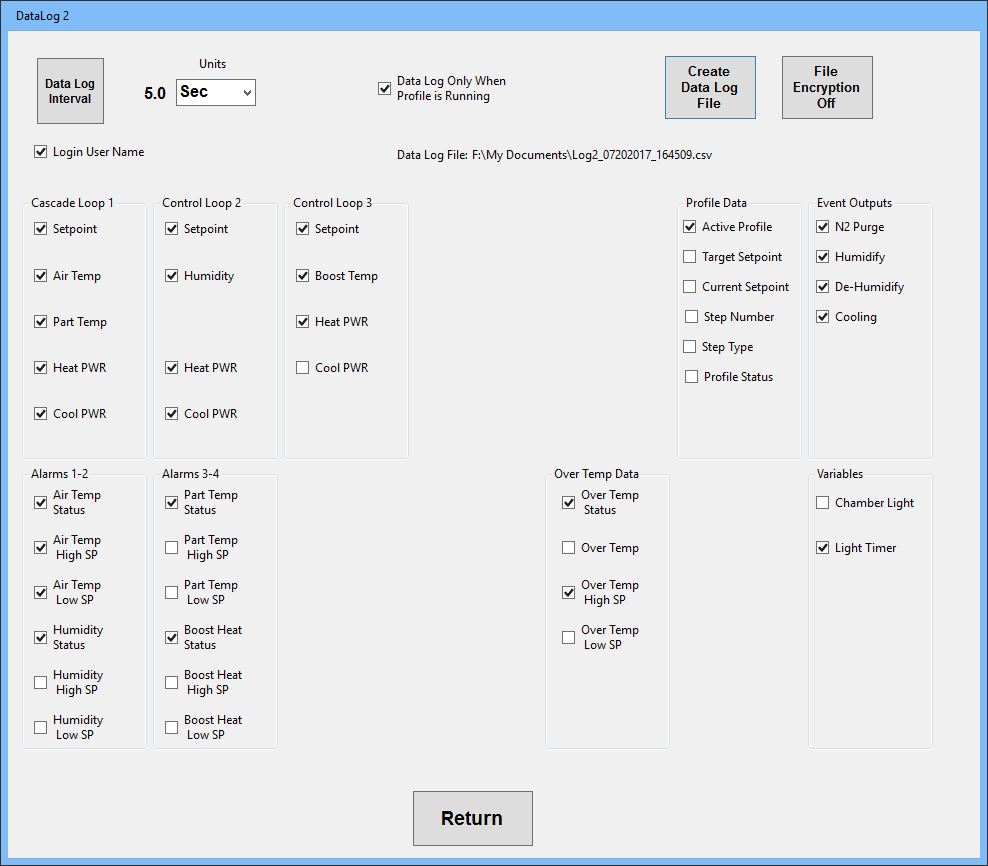 Data Log Setup


-Control Parameters, Alarms, Profile Parameters,, Event Outputs, can selectively be logged
-User Name that is currently logged in can be logged for Quality Control Requirements
-Logged File can be saved as CSV or Encrypted formats for Quality Control Requirements
-Data Logging can be continuous or only when an active Profile is running
-Limit Control Parameters can be logged
---
Display Information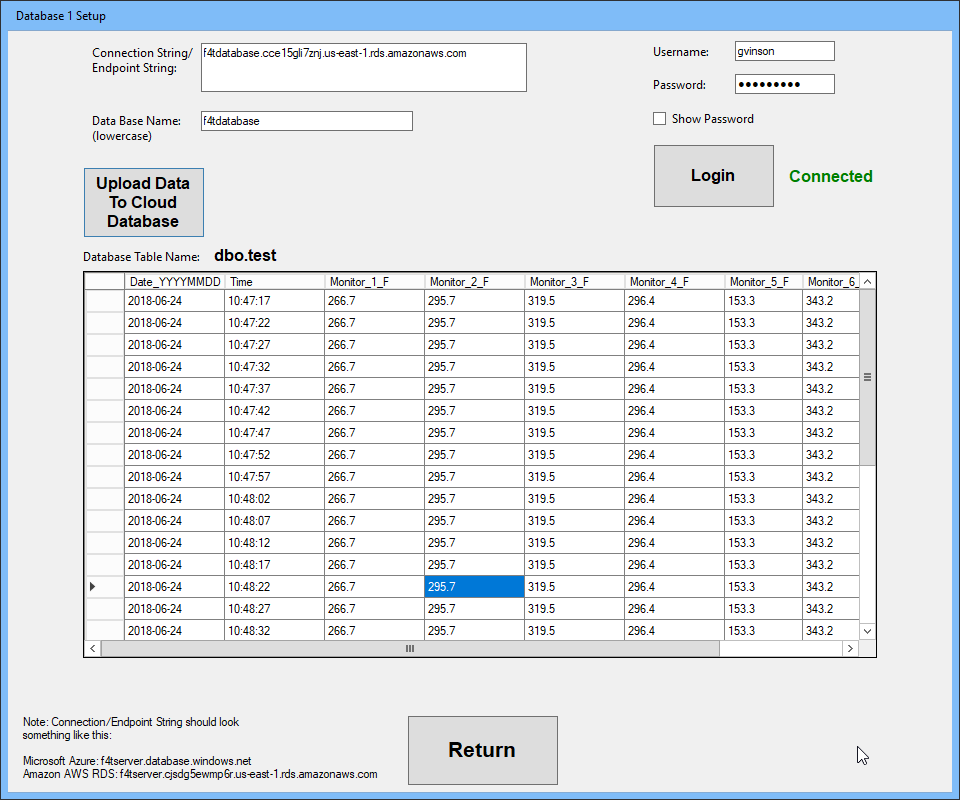 Cloud Database


-Setup screen for interfacing to Cloud Database Service
-Enables sharing of secure SQL formatted data that has been logged to remote locations or to various people in your Enterprise!
-Using a Cloud Service increases efficiency and security for sharing data among peers and meeting industry regulations!

---
Display Information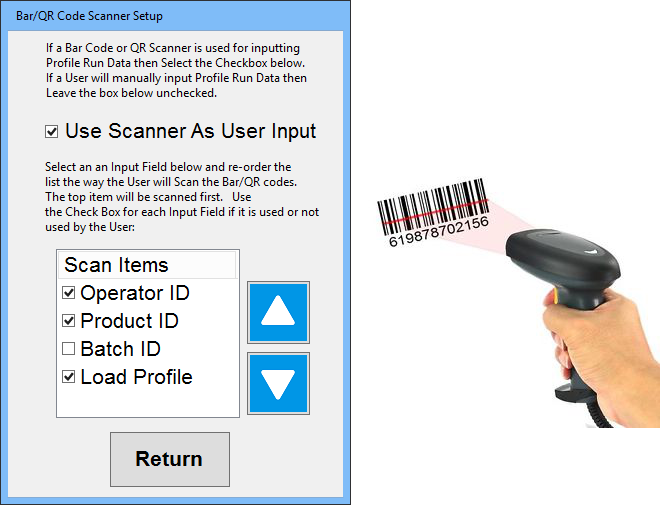 Bar/QR Code Scanner


-Bar/QR Scanners are supported for loading Profiles
-Operator ID, Product ID, Batch ID are paramters that can be scanned via Bar/QR Codes
-Using a Bar/QR Scanner eliminates Operator errors from mistyping and running the wrong profiles by mistake, which improves quality and meets several Quality Control Standards
-All the Profile Run/Batch Information is saved in the Data Log file

---
Display Information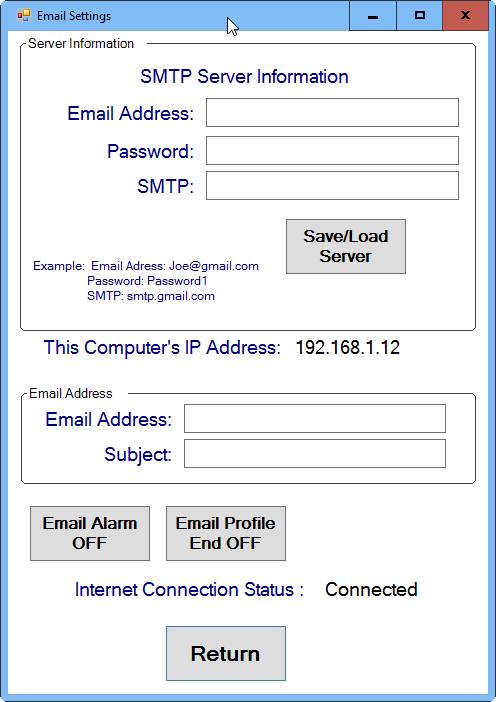 Email Notification Setup


-Emails can be sent for either Alarm conditions or End of Profile events alerting you anywhere in the world
-Up to 50 F4/F4T/PM Controls on the network can individually send email notifications when events occur in real time
-The F4/F4T/PM must have a wired or wireless internet connection to be able to use this feature
---
Display Information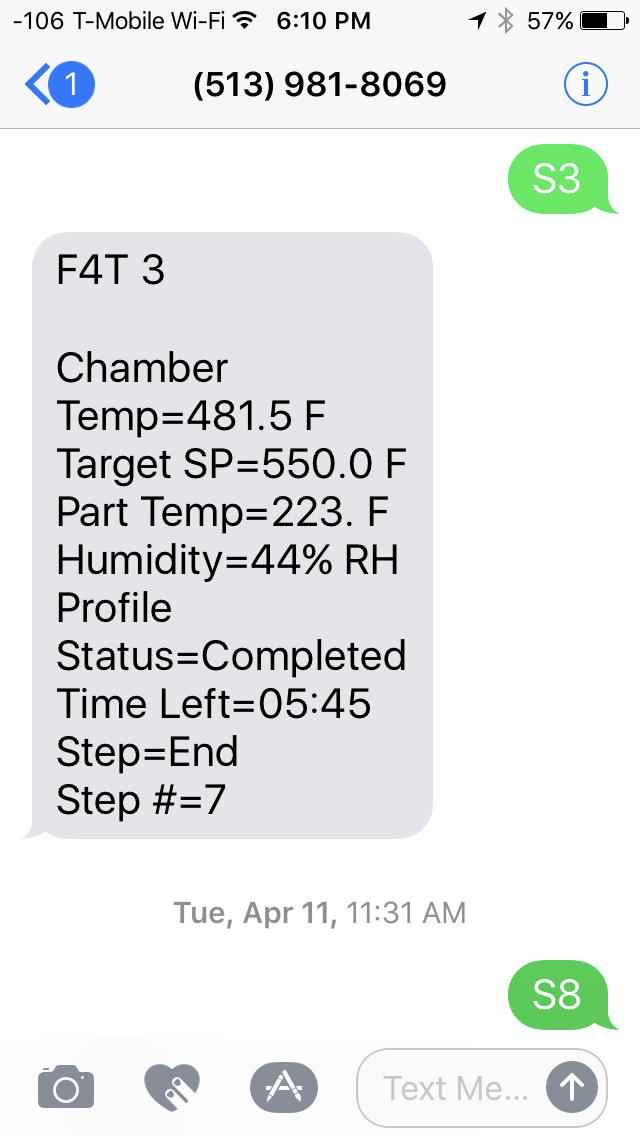 Cellular Notification


-Alarms and End of Profile events can be sent via Cellular text messages with an approved GSM Modem:
-Status of Each F4/F4T/PM on the network can be requested via text messaging, see display (S3 is for the 3rd F4/F4T/PM on the Network)
-Cellular provides a way to access the F4/F4T/PM profile status anywhere in the world without having a hard wired network connection to the internet or if there are company restrictions or firewalls accessing the internet
-Great for remote locations without internet connections but is in range of a Cellular Tower!
---
Click Here
Test Text
Display Information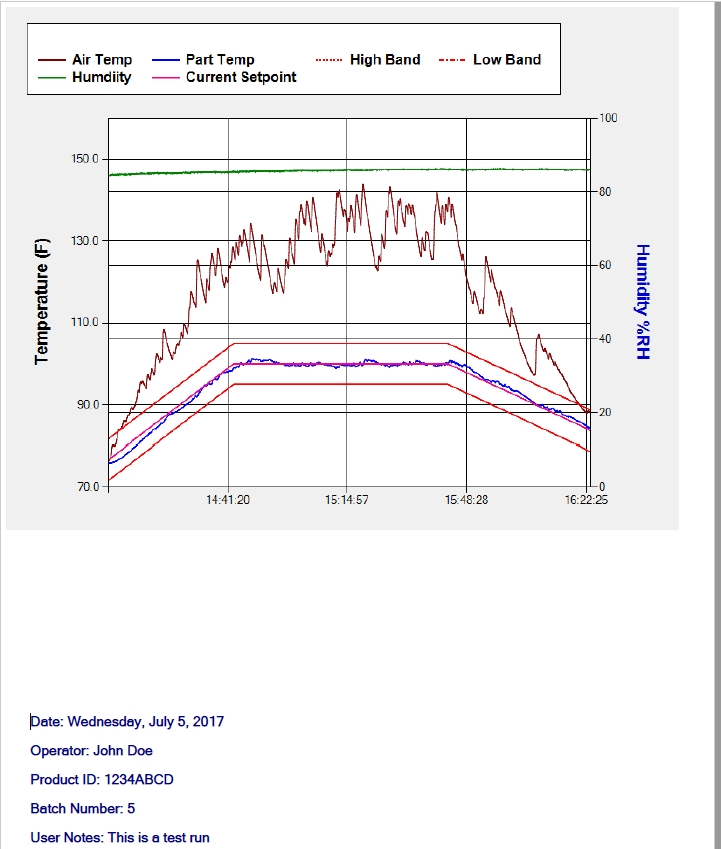 PDF Archive


-Historical Graphs or Current Graphs can be converted to PDF Files or printed for archiving or for Quality Records
-Batch information such as Operator, Product ID, Batch ID and misc. notes can be added to the PDF file or printed hard copy

---
Display Information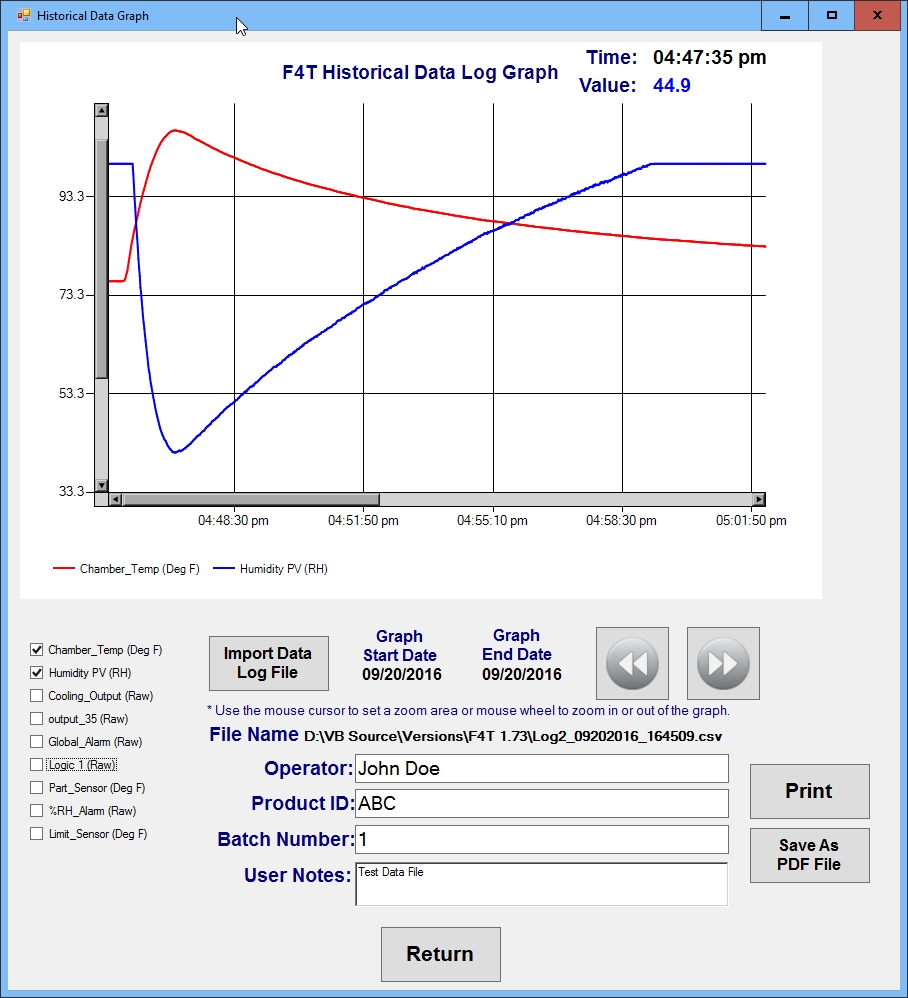 Historical Data Log Graph


-Use this utility to graph internal CSV data log files in the F4T/F4/PM
-All parameters logged in the file can be selectively graphed
-The graph can be archived by printing a hard copy or stored digitally as a PDF file
-The graph can be zoomed in or out and display forward or backward in time
-Batch information such as Operator, Product ID, Batch ID can be entered and saved for Quality Control or archiving purposes
---
Display Information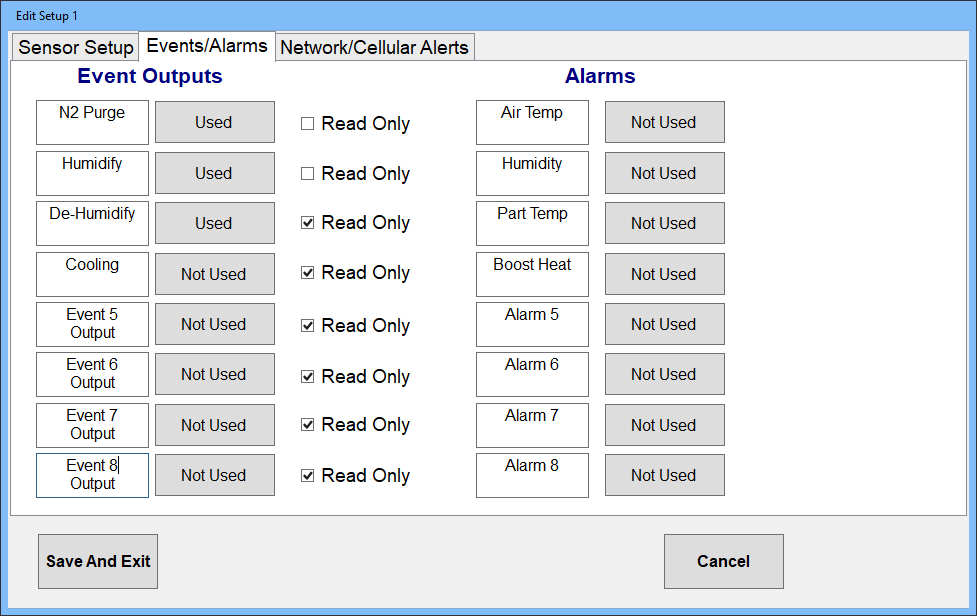 Event and Variable Setup


-Setup screen is initially done once and is password protected
-Customize all Event Outputs and Alarms with custom names making the user interface suited to your application
-All Event Outputs can be set up to be Read Only or can be given Read and Write privileges
-8 Process Alarms are supported along with custom naming

---
Display Information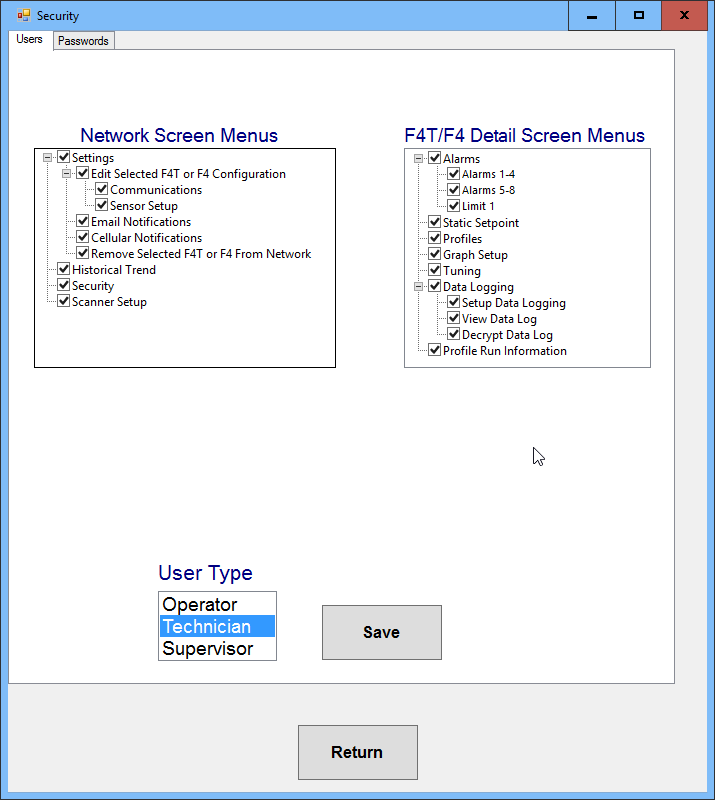 Security


-There are 3 levels of users, Supervisors, Technicians and Operators
-Unique Passwords can be assigned to each type of user level for secure operation
-All main menus and sub menus can be password protected

---
Display Information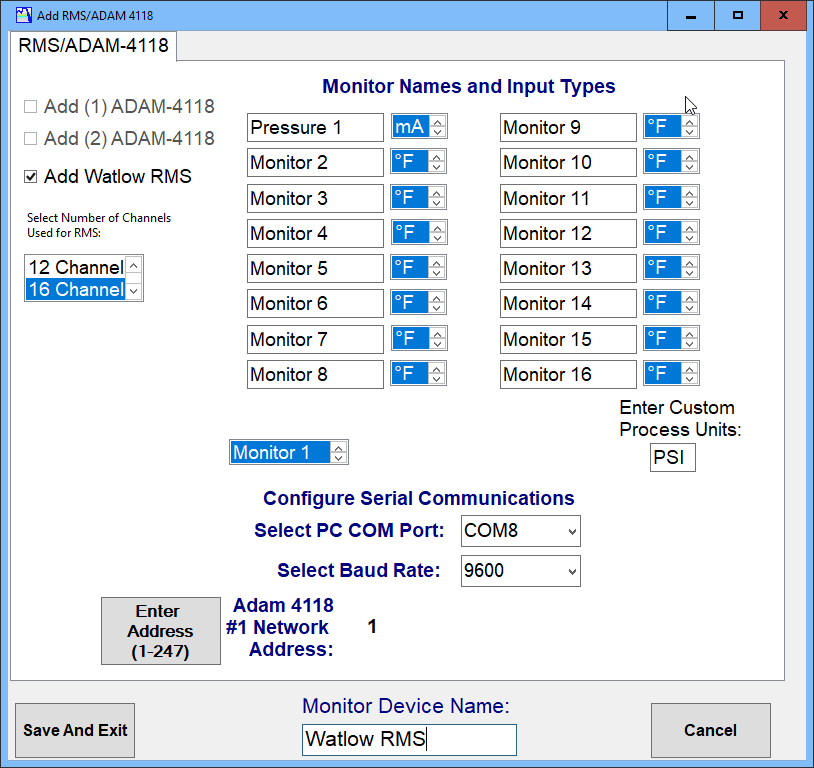 External Sensor Inputs


-Setup screen is done only initially and is password protected and is used to configure external sensor devices that interface via a network.
-Enables you to add additional sensors for your Chamber/Oven network for monitoring and logging Part temperatures or Process values
-Sensor Names can be customized to your application
-Up to 16 additional monitoring or data logging points can be added!

---
Display Information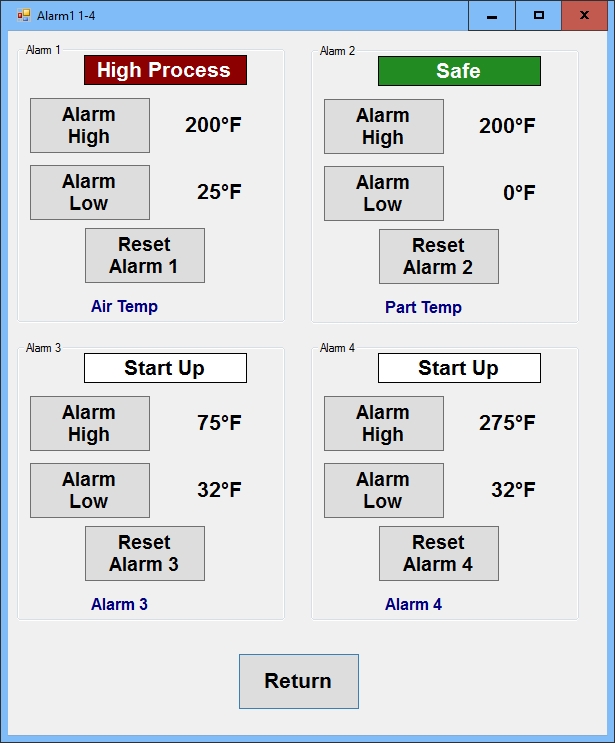 Alarms


-Up to 8 Process Alarms can be managed
-Alarm Status and High or Low Setpoints can be setup
-Alarms can be reset from this screen

---
Display Information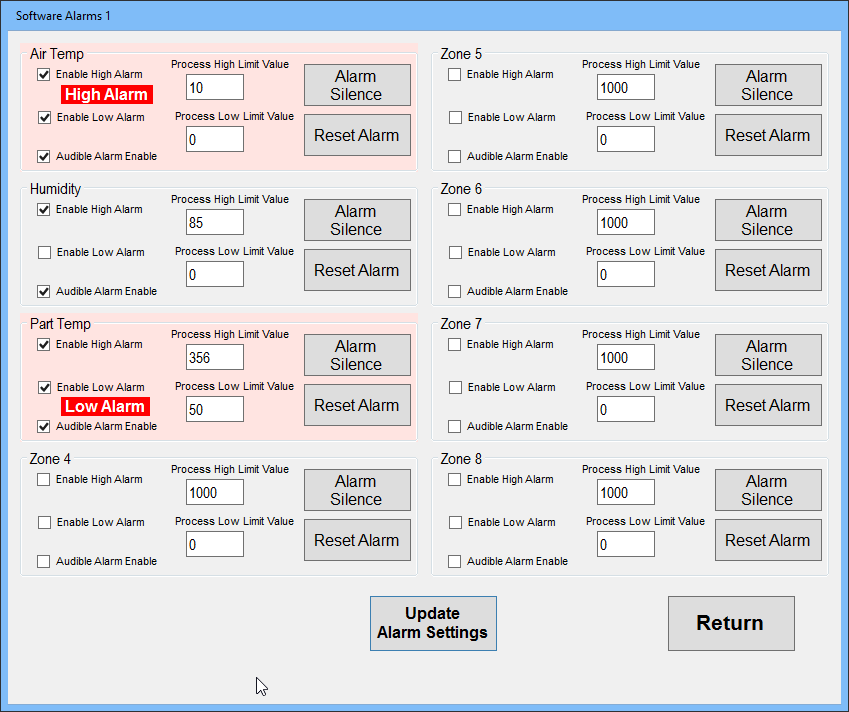 Software Alarms


-Up to 8 Software Process Alarms can be managed for up to 8 Analog Inputs
-Alarm Notification is both an audible alarm and a notification on the Trend Graph
-Both High and Low process limits can be managed independently from the F4T/F4 or PM Controller
-Alarms can be reset and silenced from this screen

---
Display Information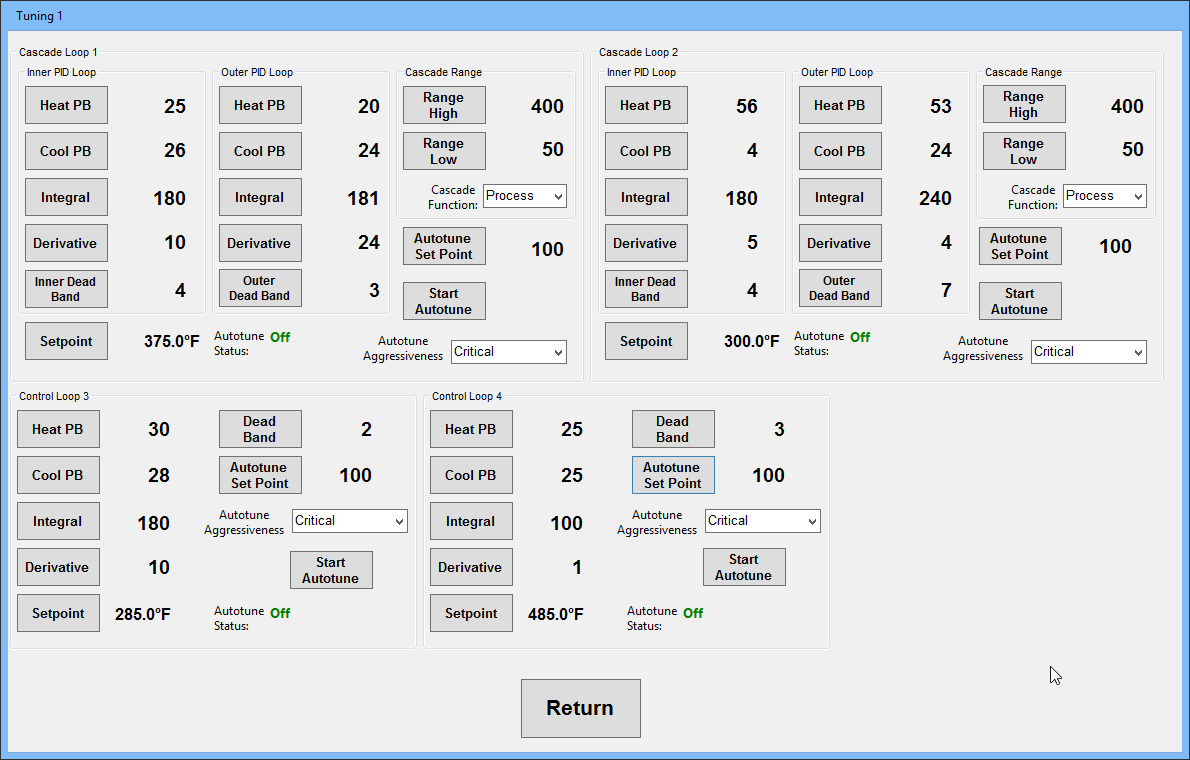 PID Tuning


-Use this screen to tune your PID Control or Cascade Loops!
-Using Autotuning you can tune for Underdamped, Overdamped or Critical step responses
-If used in conjunction with the Trend Graph it makes manual tuning much easier and allows the response to be documented for archiving puposes

---
Display Information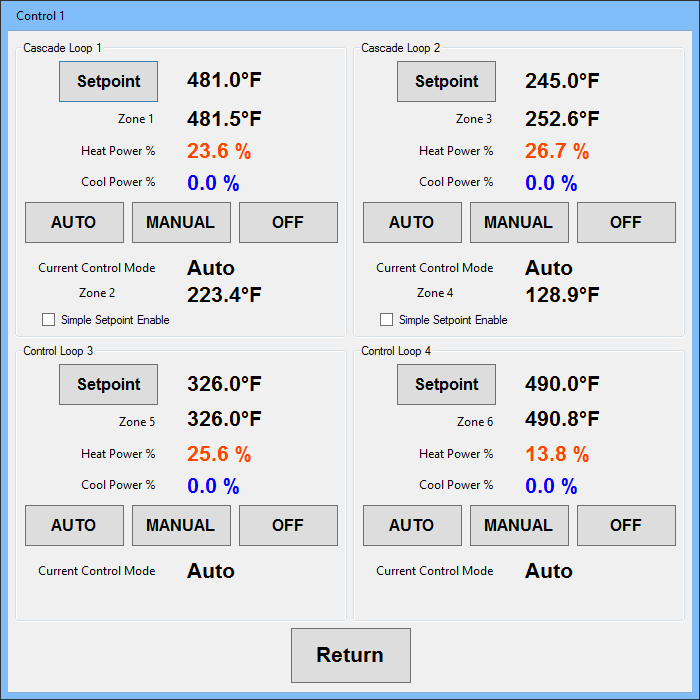 PID Control


-Up to 4 Control or Cascade loops can be configured
-Control Modes for each PID Control Loop can be set
-Setpoints, Process Values and Power Outputs are displayed

---
Display Information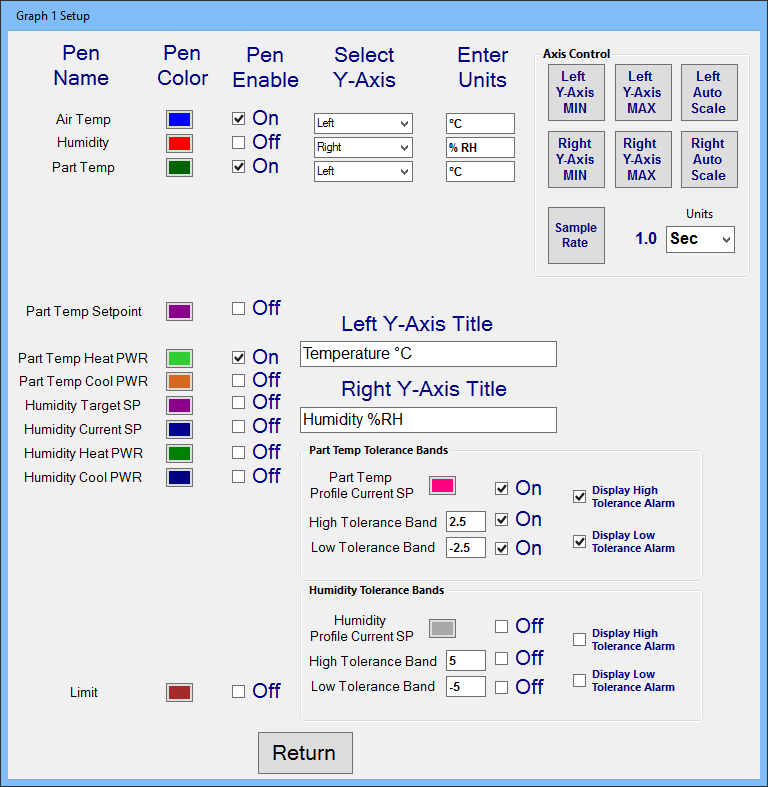 Graph Setup Input


-All Pen Colors can be customized for all data points
-Each Axis can be scaled Manually or Automatically
-Graphing can be set to Continuous Mode or Batch Mode
-Graphs can be saved to a PDF file or printed for quality audits
-Trend update rates can be adjusted
-Graphs can be zoomed in for inspections

---
Display Information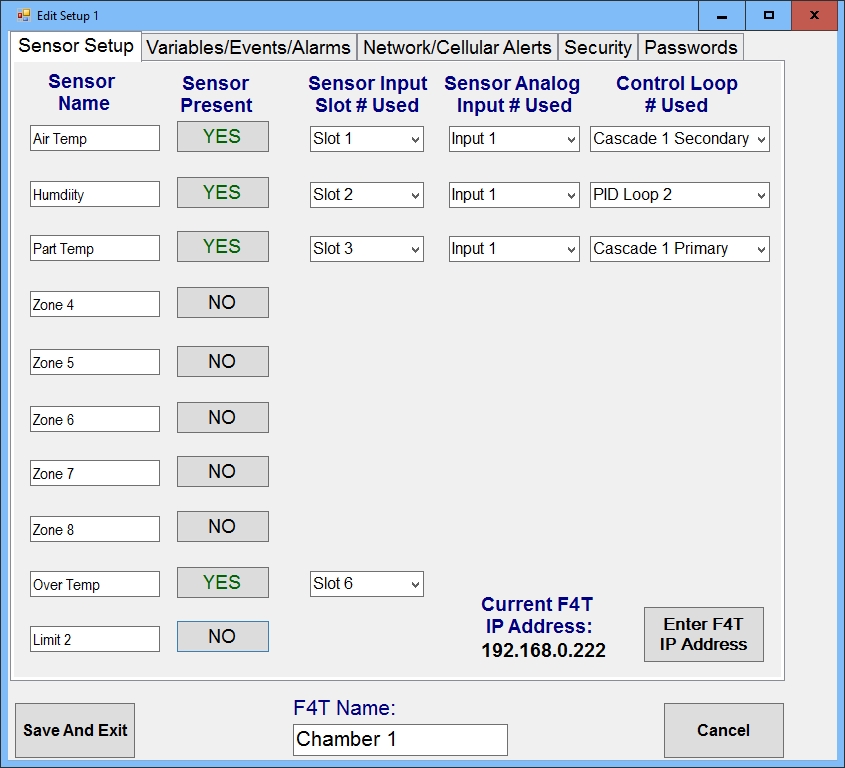 Sensor Input


-Setup screen is done only initially and is password protected
-F4T/F4/PM Sensor or Analog Inputs are setup with this screen
-Sensor Names can be customized to your application
-Slot Number and Input Number are associated with individual Analog Inputs
-Regular Control PID and Cascade Loops are supported
-F4T/PM IP Address and a Custom F4T name is customized on this screen

---
Display Information